The Act! "Winback" Promotion
We have recently been informed that an embedded third-party software component of Act! that facilitates licensing services called Protexis is being discontinued by the manufacturer at the end of this year. As of January 1, 2019, certain common actions you may take that interact with the current licensing component will cause Act! to fail and you will no longer be able to access your database. See List
IMPORTANT: January 1, 2019 Act! Version(s) 7 to 17 will no longer be able to:
Install Act! on new machines
Re-activate Act! on existing machines
Modify your user count
Make key modifications to existing machines (eg. Motherboard swap, network card swap)
If you make any of the changes listed above your Act! product will fail to re-activate and you will lose access to the software completely. Act! v17 or earlier is considered an unsupported version.
To ensure uninterrupted access to Act! in 2019, owners of unsupported versions of Act! (Act! v17 or older) are urged to upgrade to the current version of Act! (v21) by December 31, 2018. For more details on supported versions of Act!, please review Swiftpage's Obsolescence Policy. Swiftpage assumes no responsibility for issues encountered with Act! if the required upgrade action is not taken.
To soften the impact of this unexpected licensing development, Swiftpage had already scheduled the below "Winback" promotion to be extended from November 6th through to December 31st, 2018. This promo was unrelated to the Protexis development, but useful for people that had not planned to upgrade at this time. For pomo details, please review the Winback promotion information lower on this page.
---
Description:
Subscribe to any Act! Premium product and save 33% off the first year as part of our "Winback" promotion
Eligible:
Open to all past Act! customers who own unsupported versions of Act! (v17 or older)
Savings:
33% off the 1st year's subscription price
Valid until
–
End of this year

Promo Code:
Not applicable. Simply select "Winback" quantity option.

Please note:
Customer renews after first year at regular price. Perpetual products and 2+ year subscriptions are not eligible for "Winback" promotion. Cannot be combined with other promotions, including normal quantity discounts.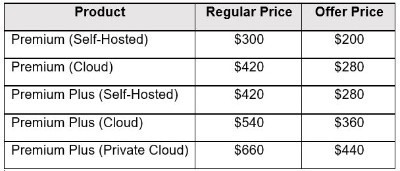 Contact Gary for volume pricing or a quote